From "many for many" to "one for all," Macmillan Learning sought to simplify their products by creating a single common design language, elevating user experiences and advancing internal efficiencies along the way.
Field Notes

Organization

Macmillan Learning (ML), an academic publishing company that creates digital products to complement in-classroom and independent learning in higher education.

Challenges

ML has a suite of 12 educational technology products used by students and instructors at colleges and universities worldwide. These products were designed at different times by different teams. When problems arose, those different teams solved them differently. However, many of those problems were common from product to product.
On the user end, college instructors often use multiple ML products in the course of a class session or one day. Each product requires a unique sign-on for instructors to remember with each use. From there, each product has unique uses and UI patterns. Instructors found themselves fumbling through the tools, losing real time in the classroom with students.
On ML's end, scaling changes across products proved to be quite cumbersome for the interdependent product, UX and engineer teams. Designing features 12 times across 12 product lines also proved to be very expensive.
ML identified the need to unify their product somehow for better user experiences and more internal efficiency, but they needed an expert partner to guide and support them through the process.
Key Insights
Like a spoken language, design language has building blocks for effective communication: color palette, fonts and styles for buttons, headings, forms and icons. Source
Companies like Google, Airbnb and Spotify are leading examples of product companies that have recognized the value of Unified Design Languages for both users and those who design and build their products.
As product suites grow, so does design debt, which is what happens when products are designed so quickly that the inevitable small imperfections or inconsistencies add up over time. For example, a car may run just fine, but dings and scratches or a broken audio speaker decrease the car's perceived value. Design debt needs to be dealt with deliberately in order to maintain great user experiences and realize workflow efficiencies across design and engineering teams. Source
From the User …
"I want to have one login that works for all the ML products I use."
"I don't want to have to relearn different interfaces that do the same thing in different ML products that I use."
From the Product Team …
"I want to eliminate redundant and disparate user experiences that decrease satisfaction in our products."
"I want to have a single source of truth that governs how our teams create and build our products."
"I want to reduce costs and save time during design and build cycles."
"I want to be able to design new features one time and have the solution scale across all products that require similar features."
Solutions
Openfield began with an audit of ML's 12 products, dissecting interfaces, styles and functionalities to reveal commonalities and differences. From there, a Common Design Language was identified, then developed and deployed in the CDL Interactive Style Guide "1.0."
ML's CDL Interactive Style Guide "1.0" satisfied an urgent need by helping ML teams better understand the shared design elements across products to effectively design, build and deliver a unified user experience across products. Oftentimes, designers would raise questions or ask for comparative examples across product teams.
Many design standards fall short by dictating absolutes that are intended to cover every possible future design scenario. With as many products as ML has, it's a fool's errand to think you can anticipate every design need that may arise in the future. Our approach is based on a set of core guiding principles that will give ML's numerous product development teams the confidence to make sound decisions across the huge variety of contexts and use cases. By adopting a continuous release approach for ongoing improvements to the guidelines, we are mirroring the product development process itself.
Results
Where many systems fall short by being too rigid, our system is a living set of guidelines that better align to the way products are updated – they are regularly updated to address the needs of ML's internal product development teams. ML can now build better and faster thanks to the Common Design Language system that Openfield created.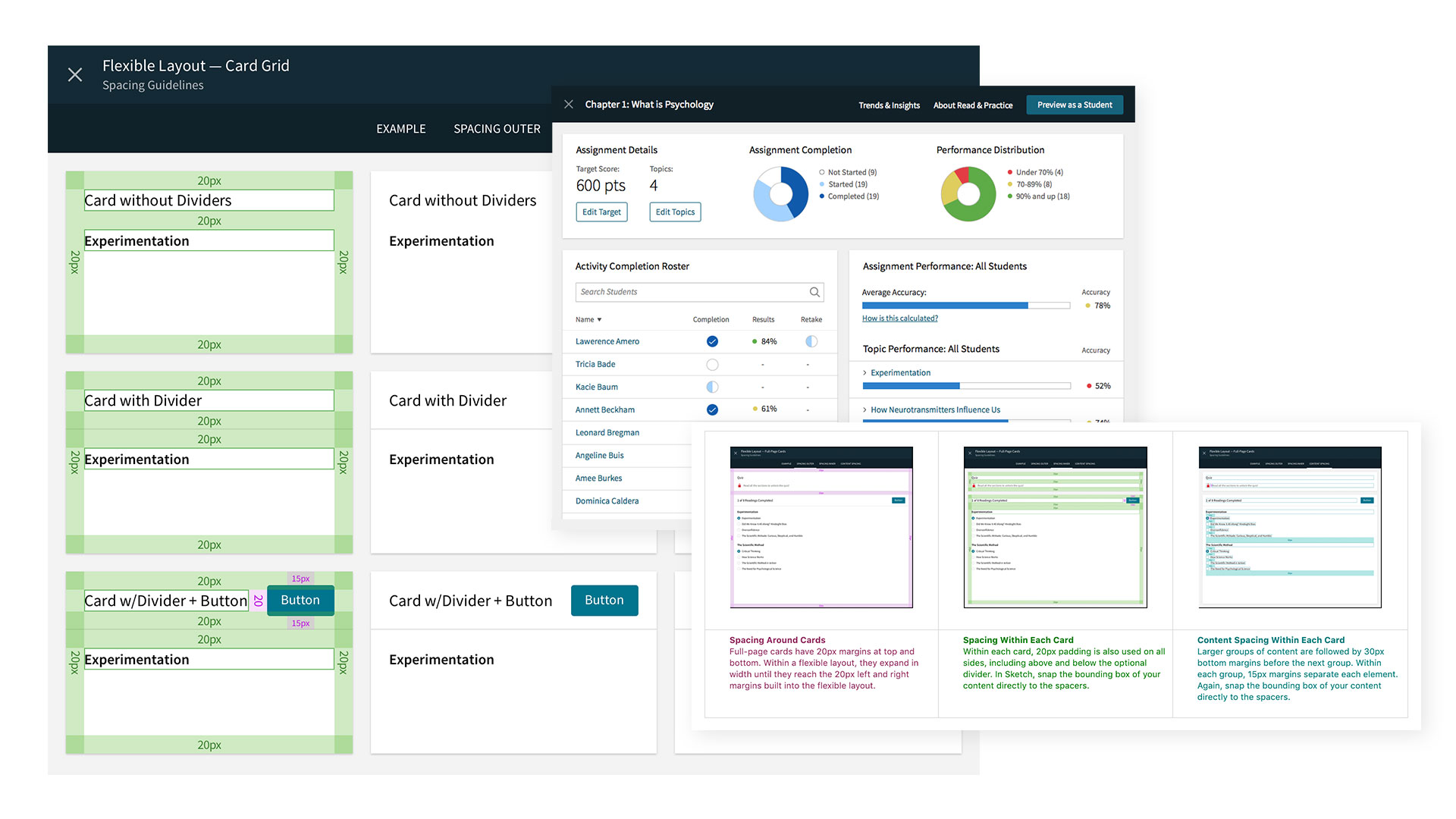 UX Capabilities at Openfield